It's Tuesday again, so you know what that means...Talk To Us Tuesday with
Impulsive
and
Shawn
!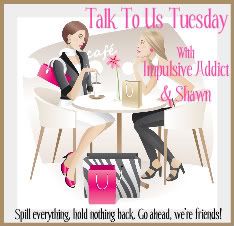 I'm a little brain-dead after the Thanksgiving weekend, so I'm going to share a few thoughts and pictures. I promise I'll do better next week.
Princess Fiona does not approve of rainy Mondays.
I love this sign outside of the bathroom at Moe's.
I decided to get fancy with a DIY manicure: OPI Dating a Royal with Nicole Snow-Man of My Dreams.
Here is an owl necklace that I made this weekend for a friend. [Check out my jewelry--Copper Alley--here.]
Another DIY manicure with Orly Shine and Orly Luxe (before I cleaned it up).
Talk to me and let me know what you've been up to!
Sparkle hearts,
A