It's Tuesday again, so you know what that means...Talk To Us Tuesday with
Impulsive
and
Shawn
!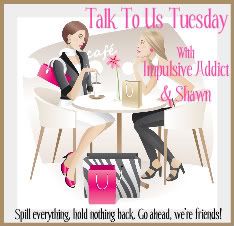 I've been a little absent from the blog, but with fairly good reason. Here are a few things that have been going on in my life.
My friend Vinny Hickerson was a contestant on this season of The Biggest Loser. I tuned in all season to see his amazing progress and texted with him after each episode to tell him how proud I was of his dedication. He ended up making it to the final episode and was up for the $100,000 weigh-in. Sadly, he lost by 3 pounds, but he lost an incredible 184 pounds. Way to go! He also proposed to his girlfriend and is planning a wedding. He deserves every bit of happiness. I met Vinny back in college. His band Trailer Choir played at several frat houses on campus and we quickly became friends. Their band signed with Toby Keith and they quickly made themselves a name in the country music industry. Check them out
here
. You won't regret it!
Hanging out with Big Vinny.
My company was asked to build some furniture for Extreme Makeover: Home Edition last month. We worked diligently on designs under the direction of Michael Moloney and we installed in the house on Friday. It was an incredible experience. I worked with a few other people in my office on the design and I think it will be great for the Friday family. We built a desk unit for the Study Room for the Friday children. The parents recently adopted the 5 siblings from foster care so that they wouldn't be separated. Isn't that incredible?! Unfortunately, they were strict with the no pictures policy on site and the episode will air as a Christmas special in 2012. (I got fussed at several times for trying to sneak pictures. Go figure.) But you can check out local news coverage
here
.
That's Ed in the red hard hat.
I've been crazy busy with orders for my jewelry business,
Copper Alley
. In an ideal world, I'd be able to stay home and make my jewelry all day, everyday. Now, if I could just get someone famous to wear my jewelry, I'd be set. Know any takers? Anyone want to do a blog review?
That's enough rambling for tonight!
A
Custom monogrammed necklace.