It's Tuesday again, so you know what that means...Talk To Us Tuesday with
Impulsive
and
Shawn
!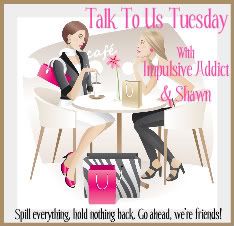 I had a really awkward moment last night and it's my duty to share it with you. It's not pleasant, but it's incredibly awkward. You've been warned.
I had some errands to run after work and I really had to pee, but I didn't want to use a public restroom. I was convinced I could wait until I got to Mommy Dearest's house to meet her for dinner. I got to her house and rushed immediately to the bathroom. I hurriedly sat down on the toilet and commenced peeing like Austin Powers in his International Man of Mystery movie. You know the one? All of a sudden, I hear the sound of liquid splattering on the hardwood floor. I looked down in horror. Somehow, in my haste to urinate, I had done so with great force and unparalleled and accidental accuracy. I had managed to pee precisely through the tiny gap between the toilet bowl and the seat. Not only had I peed I the floor, but I'd peed all over my pants leg. I couldn't have managed that if I would have tried! How does that even happen?! Needless to say, I had some serious laundry to do.
What's the most awkward thing that's happened to you lately?
Sparkle hearts,
A