It's Tuesday again, so you know what that means...Talk To Us Tuesday with
Impulsive
and
Shawn
!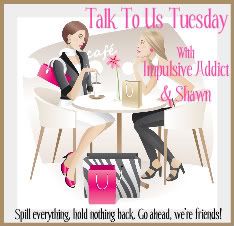 I have an addiction that is slowly encroaching in on all of my thoughts and free time. When I'm not doing it, I'm thinking about doing it. It's a little embarrassing for a 25-year-old to be so engrossed with it.
What is it?
The Twilight Saga. I said it. I was not a fan when the series first came out. I refused to read the books because nothing could be better than Ann Rice's Vampire Chronicles of my beloved Buffy. When the first movie came out in theaters, SEW (my roommate at the time) convinced me to go see it with her. I went, begrudgingly. I didn't get it. The acting was terrible and Kristen Stewart is painfully awkward to watch. When New Moon was released in theaters, my friend Pearl Girl (who is 2 years older than I am) bought be a ticket so she didn't have to go by herself. It was even worse than the first one. I hadn't paid attention to the story line, the wolves were not believable, and I still didn't understand the fuss. I remember the 15-year-old girls in front of us crying when the credits rolled, proclaiming through their sobs, "This is the best move EVER!"
Flash forward to last month. I was channel surfing and saw that Twilight was on FX so I caved. I actually didn't hate it. Fast forward some more to Thanksgiving week. Twilight was on TV again. I watched. Again. And I liked it. A lot. I totally get the brooding vampire thing. After all, I spent a great deal of my youth lusting after David Boreanaz as Angel (and even after James Marsters as Spike...anyone else?). I can identify will Bella's longing for her soul mate. I get it. I'm not proud of that, but whatever. Plus, Robert Pattinson is a Hottie McBody, even if he never bathes.
I ended up buying the trilogy of DVDs on Black Friday for $3.99 each. I couldn't stop there though. I headed over to the library (for maybe the 10th time in my life) and checked out the audio books for Twilight and New Moon. I'm close to being done with New Moon, and I can't contain myself. I'm waiting until I finish the book before I re-watch the movie.
So there is my new guilty little pleasure. I know, I'm a few years late to the party. And if you're wondering, I'm Team Edward. Bite me.
What are your guilty pleasures?
XOXO,
Gossip Girl A