It's Tuesday again, so you know what that means...Talk To Us Tuesday with
Impulsive
and
Shawn
!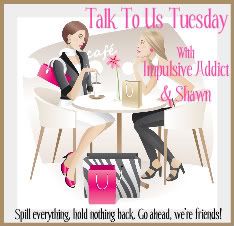 Today, I'm going to tell you the awkward and awesome story of how Kenny Chesney kissed me.
Yes, you read that right.
Let's rewind back to the spring of 2007, my junior year of college. I entered into a local radio contest to win tickets to see Kenny Chesney in concert for his Flip Flop summer tour. To enter, you had to take a picture of your feet in flip flops. I took it up a notch and drew daiquiris on my feet, as well. I was shocked to find out that I won 2 tickets! I called the BFFAE and told he we were going.
Our seats were decent, but not great. But hey, I'm not going to complain about free tickets. During the break before Kenny went on stage, the BFFAE and I made our way to get some liquid refreshments. We were standing in an impossibly long line when 2 sketchy guys approached us. They were wearing cut-off camo shorts, black concert t-shirts, and had massive beer bellies. The BFFAE did some modeling in college, so we were used to being approached. These guys asked us if we wanted to go to the Sandbar. The BFFAE bluntly told them we weren't interested in going to a bar with them. The guy went on to tell me that the Sandbar was the area right in front of the stage. They said they had wristbands to get us in and we could have them. I skeptically asked what we had to do to get these magic wristbands. They didn't want anything in return. Well, okay, that was easy...
Hanging out with our favorite Event Staff guy.
Having a blast in the Sandbar.
We made our way down to the front of the stage and got right into the Sandbar. It was
awesome
! While we were there, we made friends with these 3 older intoxicated women. They were hilarious. They talked about how they were going to go backstage after. They didn't have passes, but they were going to make it happen. Naturally, we joined in. Somehow, we made it to the
after party
. We were lined up outside of a room and had no idea what to expect. They gradually let us in in groups of 2 or 3. As we walked in, they handed us each a can of Red Bull and a
bottle
(like 1 liter) of Cruzan Rum. No cups. These people knew how to party. Looking around, we saw a few musicians that were with Pat Green, but no Kenny. Then, out of the corner of my eye,
I saw him
! For 15 glorious seconds, we were partying together.
My future ex-husband.
The BFFAE ended up making friends with some of Pat Green's guys. Some of Kenny's guys even joined us. At one point, Kenny's sexy fiddle player invited us
back to the tour bus
. Of course, we went. Keep in mind that this is well after midnight. We walk out a back door and onto a giant purple
Cruzan Rum presents Kenny Chesney's Flip Flop Summer Tour
bus. We were promptly told to keep our phones and cameras in our pockets and if we were seen using them, we'd be asked to leave.
Outside of the bus with Pat Green's musicians.
Kenny's musicians (who still tour with him, by the way)
We hung out, enjoyed some liquid refreshments from the bus's bar, and danced with the musicians. Standard. I decided to take a break and sit down on the couch with the BFFAE danced with Kenny's guitar player. I was getting sleepy and was in a bit of a haze from all of the awesomeness that was going on. I felt someone sit down beside me on the couch. I turn to see who it was and
it was Kenny freaking Chesney!
I made my best attempt at conversation without sounding like a bumbling idiot. Not sure it worked. I don't even remember exactly what I said, but something along the lines of telling him it was a great show and I was a big fan.
I didn't want to sound like some stalker and go all Swim Fan on his fine ass.
Pay attention people, because this is where it gets good.
He put his hand on my knee and told me I was just the sweetest thing he'd ever seen and
he kissed me on the forehead!
I almost died, y'all. Best night of my life? I think so.
Big pimpin',
A